FREE Beef Jerky Sampler Pack! Use code "FREEJERKY"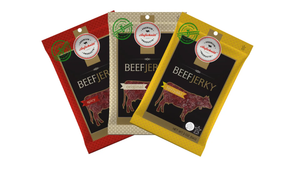 Limit 1 Per Customer.
Just Pay Shipping. 

Variety 3-Pack - Spicy, Original, & Teriyaki Flavors
We're confident that if you try our Premium Beef Jerky you'll be hooked!  This is why we're offering this crazy deal!
Limited Time Only. Grab Yours Today!
Was amazing
I was speaking to the people in camp lo moshava about you
FREE Beef Jerky Sampler Pack
Where to start? This jerky is so tasty. I love the natural ingredients. The packaging is eco friendly, it doesn't have wasted space, like the 2 oz pouch is filled with jerky. It's cut into little bite size pieces perfect for sharing with the kids.
Whole quality ingredients!
Meat comes from happy cows that are grass feed and free roaming! You can tell it in the high quality and fresh taste!
Sampler pack is terrific!
Sampler pack is terrific!