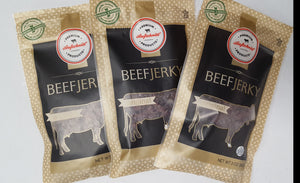 Product image 1
Product image 2
Product image 3
Now Enjoy your favorite Jerky in BULK and at a LOW COST. Total of 9oz. To keep this product fresh, we have packaged it as 3/3oz bags with a zip lock. 
Delicately cured slices of beef seasoned with the perfect combination of salt & pepper to create the ultimate jerky snack. Enjoy your Kosher, all natural, gluten free Original Beef Jerky sourced from Grass Fed Beef.
Ingredients
Beef, Water, Brown Sugar, Sea Salt, Garlic Powder, Spices, Celery Juice Powder, Natural Smoke Flavor.
NOTE: This product will not ship in its display box.
The best!
This jerkey is so good. We love that it is grass fed. Lots of flavor without being overly spicy. Resealable packages. Our entire family loves it.
Love these bars
We ordered some new bars - cranberry, and they're almost as good as the pineapple chia ones. We also ordered some jerky treats as well. Love your snacks, they are delicious and low calorie! The best of both worlds. Keep up the good work!