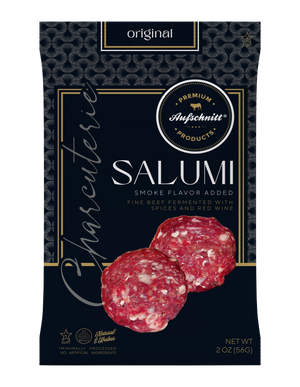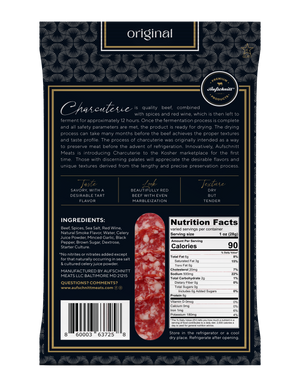 Product image 1
Product image 2
Charcuterie: quality beef, combined with spices and red wine, which is then left to ferment for approximately12 hours. Once the fermentation process is complete and all safety parameters are met, the product is ready for drying. The drying process can take many months before the beef achieves the proper textures and taste profile. The process of charcuterie was originally intended as a way to preserve meat before the advent of refrigeration. Innovatively, Aufschnitt Meats is introducing Charcuterie to the Kosher marketplace for the first time.  Those with discerning palates will appreciate the desirable flavors and unique textures derived from the lengthy and precise preservation process.
       Ingredients

Beef, Spices, Sea Salt, Red Wine, Natural Smoke Flavor, Water, Celery Juice Powder, Minced Garlic, Black Pepper, Brown Sugar, Dextrose, Starter Culture.
Not dry salami
The most notable feature for me was the moisture of the meat in the package on the plate and in the palate. Rolled up with a toothpick it reminded me of hors doeveres served at exclusive wedding venues or an over the top bar mitsvah. It is definitely something I would like to have available for guests and just plain snacking.
Outstanding
Excellent taste. Perfect texture
Excellent Salumi!
Great taste. I enjoyed every bite!