Exodus Beef Jerky - Sweet Chipotle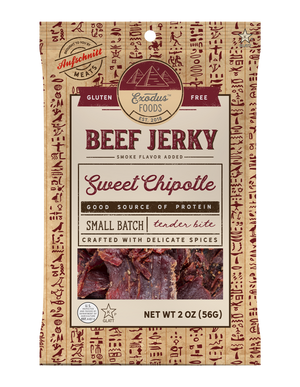 Product image 1
Product image 2
EXODUS - THE STORY REPRESENTING THE ICONIC HOLIDAY OF PASSOVER
It's a time of year when family and friends gather around the table and reminisce the nostalgic experiences of the yesteryear, from the Ten Plagues to the splitting of the Red Sea. Exodus Foods proudly presents you with Passover versions of your year round favorites, so come join us as we celebrate the miracles of Exodus.
Ingredients: Beef, Water, Sugar, Sea Salt, Black Pepper, Garlic Powder, Sodium Nitrite, Spices, Natural Smoke Flavor.
Kosher for Passover Beef Jerky certified by the Star-K Glatt Passover.
Tastes great!
Best beef jerky I ever had!
You should advertising more on whatsapp with naftali status you will make alot more money
Still not Passover. Check your calendar