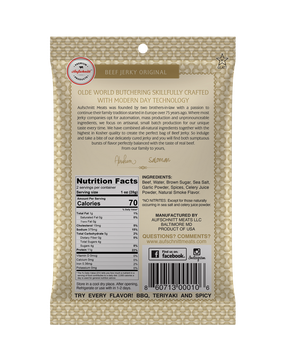 Product image 1
Product image 2
Delicately cured slices of beef seasoned with the perfect combination of salt & pepper to create the ultimate jerky snack. Enjoy your Kosher, all natural, gluten free Original Beef Jerky sourced from Grass Fed Beef.
Ingredients
Beef, Water, Brown Sugar, Sea Salt, Spices, Celery Juice Powder, Natural Smoke Flavor.
The best Glatt Kosher Jerky!!!
Got my order super quick!! Arrived on the second Day of Rosh Hashanah! Great way to start the new Year!! In all honesty this is really hands down the best Glatt Kosher Jerky I've ever had and to top it all off you can't beat the price!!! Will be ordering more for sure!! Shana Tova Umetuka!
Clutch jerky
Only 2 points on WW and a great pick me up snack when I need the extra protein