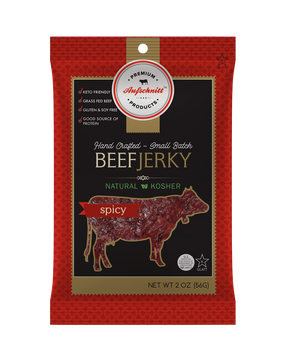 Product image 1
Product image 2
Our Spicy Beef Jerky is for those who savor a great snack with a good punch. Enjoy your Kosher, all natural, gluten free Spicy Beef Jerky sourced from Grass Fed Beef. 
Ingredients
Beef, Water, Brown sugar, Sea Salt, Cayenne Pepper, Spices, Celery Juice Powder, Natural Smoke Flavor.
It's decent jerky
Not a huge fan of shaped jerky. The flavor is good, not great. Texture is decent. Not too soft. All I can say is it's decent.
great product.
aside from some USPS issues it has been great experience with this company and their excellent products
Yummy
Received my samples. Teriyaki, original and spicy.
All 3 got a 5 star rating from this jerky lover!!
Delicious!
Spicy Beef Jerky is the favorite in our house. Excellent flavor.