Essiccata Sweet Chipotle Beef Jerky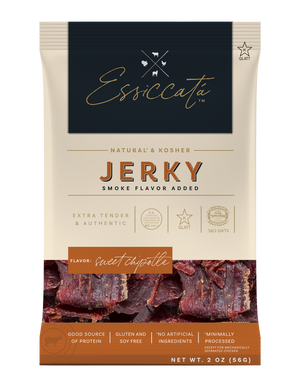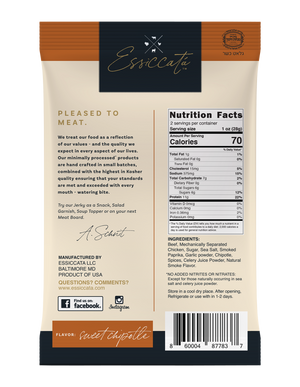 Product image 1
Product image 2
Product image 3
 PLEASED TO MEAT.
We treat our food as a reflection of our values - and quality we expect in every aspect of our lives. Our minimally processed products are hand crafted in small batches, combined with the highest in Kosher quality ensuring that your standards are met and exceeded with every mouth - watering bite.
Ingredients
Beef, Mechanically Separated Chicken, Water, Brown Sugar, Sea Salt, Spices, Celery Juice Powder, Natural Smoke Flavor.
Essiccata sweet chipotle beef jerky
Very good it had an amazing sweet flavor!
great texture, just a smidge too zesty
the Essiccata Sweet Chipotle Beef Jerky i bought from aufschnitts came in nice, portion-manageable-sized bag, which included a resealable zip at the top.
the texture was a perfect balance between soft and chewy and gave great mouth.
for my taste, it was just a teen-tiny, eensy-weensy, itsy-bitsy too spicy. i enjoy chipotle sauce seasoning in small doses, and i was hoping the sweet designation in its name would offset any overbearance of the chipotle, if any.
it almost did, but not quite.
i still enjoyed every bit of it, though.
all in all, i would certainly recommend this to anyone who enjoys a bit of kick to their palate off of aufschnitts' pallette of jerky flavours. i gave some to a friend of mine, and he found it to be quite enjoyable.
Amazing!
The beef jerky is affordable beef jerky products that also taste delicious!!
Delicious
I absolutely love this jerky. It's not chewy.