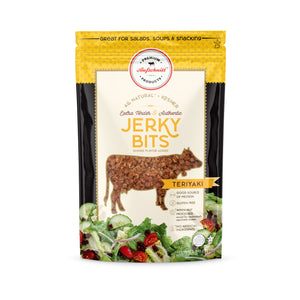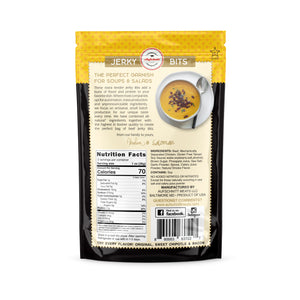 Product image 1
Product image 2
Product image 3
Product image 4
THE PERFECT GARNISH FOR SOUPS AND SALADS
These extra tender Jerky Bits add a burst of flavor and protein to your favorite dish. Where most companies opt for automation, mass production and unpronounceable ingredients, we focus on artisanal, small batch production for our unique taste every time. We have combined All Natural ingredients together with the highest in kosher quality to create the perfect bag of beef jerky bits.
Ingredients
Beef, Mechanically Separated Chicken, Water, Brown Sugar, Gluten Free Tamari Soy Sauce (Water, Soy Beans, Salt, Alcohol) Sea Salt, Spices, Celery Juice Powder Natural Smoke Flavor.
Contains: Soy
Issue with buying in bulk
So I bought 72 bags of the teriyaki flavored bits version and out of the maybe 20-30 bags I've eaten so far five or eight of them had bags were they weren't dried enough and tasted really weird and had a wet texture I'm guessing this issue is the way they smoke it or something because also some bags are really salty but most of the time it's good but if I went to the store to buy a bag and got the wet noodle like texture jerky I'd be pretty pissed
Synthesis of Deliciousness and Convenience
Aufschnitt produces delicious beef jerky. They decided to make the jerky more fun and convenient by creating jerky bits. When you throw in the Teriyaki flavor, you bring the synthesis of deliciousness and convenience to a whole new level!
Uncle Dave
Like the bits in hot soup
Tastes great! Great nosh!