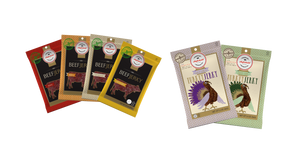 Not sure which flavor to try? Now we have a jerky sampler pack just for you. You will be pleasantly surprised at all sophisticated flavors that you can get in one purchase. ENJOY!  
Includes - 1 x Original Beef Jerky, 1 x Spicy Beef Jerky, 1 x BBQ Beef Jerky, 1 x Teriyaki Beef Jerky, 1 x Basil Lime Turkey Jerky and 1 x Garlic Ginger Turkey Jerky.
Please refer to the individual packs for flavor descriptions, nutrition facts and ingredients.
Great treat
Enjoyed the beef jerky. Great as a snack, on a meat platter, and on salad.
highly recommend.
Delicious jerky
It's so nice to have good quality jerky available that is kosher and comes in a variety of flavors. Each flavor is delicious. The meat has great texture and taste.
every thing was outstanding.